Longhorn Steakhouse ~ Legendary steaks, fresh chicken & fish, & a gluten-free menu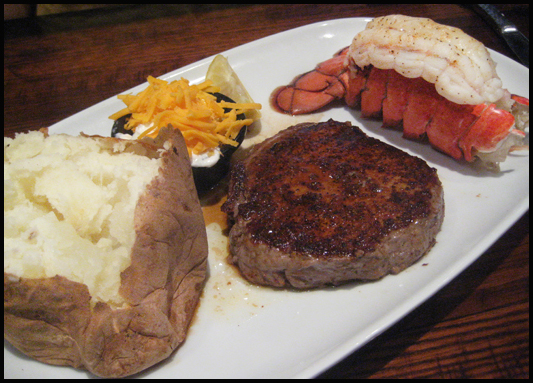 Lobster, steak, & potato cravings?  Near the Speedway in Kansas City, KS is a steakhouse known for their "expertly grilled steaks… thirst-quenching Margaritas, and specialty drinks".  Longhorn Steakhouse serves more than steaks and drinks… the Longhorn Salmon is one of my fav's, along with their grilled chicken lunch specials.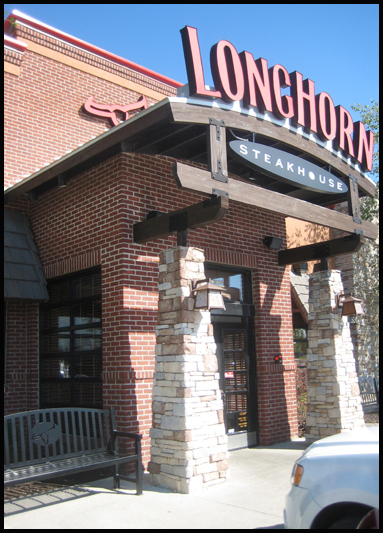 If you're near the Legends Outlet Shopping Center, you might enjoy trying Longhorn Steakhouse for a fulfilling meal before you shop.  You can walk off some calories after!  The hosts/hostesses are friendly, service is great, and the tasty food keeps locals as repeat customers.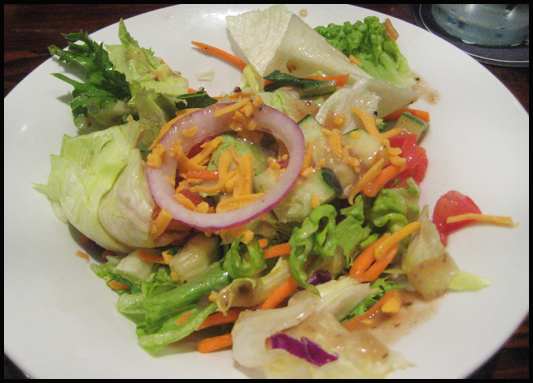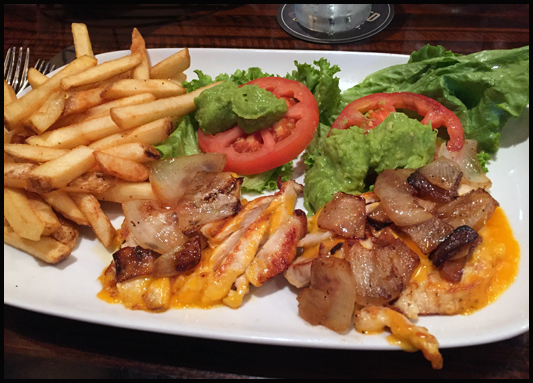 Longhorn Steakhouse now has a separate gluten-free menu – I'm celebrating!  Cheers to Longhorn for offering this, opa!
Perhaps we can persuade them to add gluten-free bread/buns, too ;o).  In the meantime, I opted for my grilled chicken avocado combo sandwich sans bread, and created a lettuce wrap instead.  I usually order their salad, occasionally I indulge in their fries.  (Celiacs might be cautious of the fries).
Longhorn Steakhouse's fish is prepared juicy and flavorful.  This tilapia 'special' served with mango salsa, rice, and steamed broccoli…  delic!  Their salmon plates are soooo good, too, cedar planked and lightly glazed.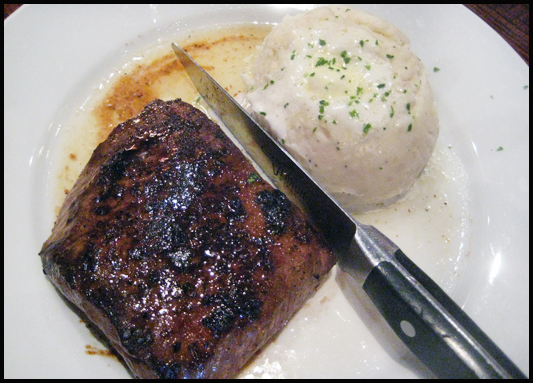 Once in a while I indulge in Longhorn Steakhouse's Flat Iron Steak.  It's paired with mashed potatoes, and comes with a side salad or soup.  It holds a little 'bite' for your taste buds to the very last forkful.  Don't be scared of the spice – it completes the meal!
If you have a sweet tooth at the end of your meal, their menu doesn't indicate any gluten-free options.  I've suggested they offer a chocolate flourless gluten-free cake on a few occasions ~ perhaps they can offer a scoop of ice cream for now ;o).
I learned some cool facts about Longhorn Steakhouse while researching their website for this post:
They donate a portion of new restaurant opening proceeds to help local organizations
They contribute high-quality food items on a weekly basis to community food banks & non-profits to help feed the hungry
They donate meals to help feed local families affected by natural disasters via the Red Cross Annual Disaster Giving Program
Bravo, Longhorn Steakhouse!
1 8oz. filet w/ lobster tail, fresh brewed iced tea – kitty = $ 38.72 + tip
1/2 chicken avocado combo w/ broccoli cheddar soup, fresh brewed iced tea – kitty = $ 11.99 + tip
Tilapia, rice, mango salsa, broccoli – kitty = $ 18.09 + tip
1 8oz. flat iron steak, mashed potatoes, hand-chopped side salad – kitty = $ 15.43 + tip
Save
Save
Save
Save
Save
Save
Save
Save
Save
Save
Save
Save