Tender Greens ~ 'Eat Better' Gluten-free Lunch & Dinner Options

Tender Greens was born via one great idea from "two chefs and a foodie".  Now, it's a restaurant whose goal is to change the way people eat for the better.  Their menu is vast with something for every appetite, filled with tasty gluten-free options.  You'd think I would try something other than this Backyard Marinated Steak Plate, then, right?!? ;o)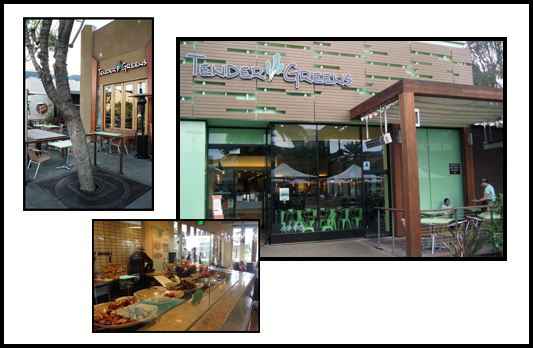 "How ya doin'?"  They're a friendly bunch, and I appreciate their happy attitudes, especially during a lunch or dinner hour.  With their first Tender Greens opening in 2006, this California team created meals they enjoyed with their friends, and prepared pairings not found at other establishments.
Their plates include a choice of protein, greens, & a side (with optional grilled herb crostini for your glutenous friends):
Salt and Pepper Chicken
Chipotle Barbeque Chicken
Fried Chicken (not g/f)
Herb Brushed Albacore Tuna
Backyard Marinated Steak (my FAV!)
Grilled Salmon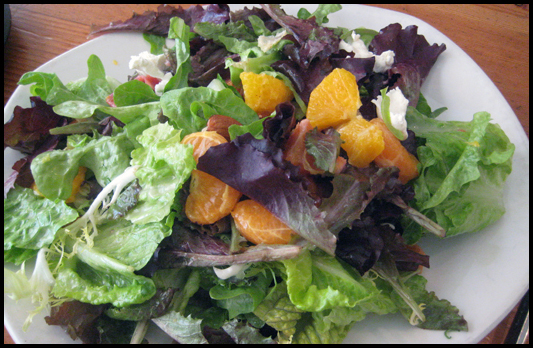 Salads are a hearty plateful of fresh veggies & dressings:
Chipotle Barbecue Chicken
Chinese Chicken (not g/f)
Grilled Chicken Cobb

Tuna Nicoise
Backyard Steak
Happy Vegan (not g/f)
Serrano Grilled Shrimp Bowl
Chopped Salad
Greens choices include:
Tender Greens Salad
Baby Spinach
Baby Arugula
Butter Lettuce
Romaine Hearts (not g/f)
Kale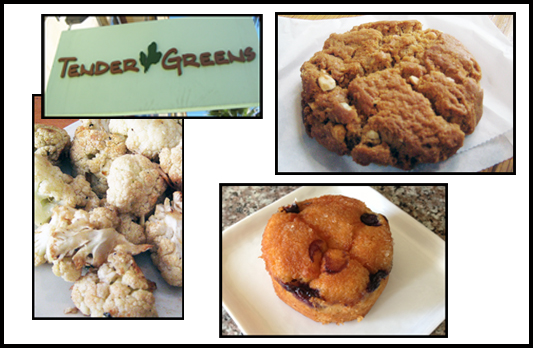 Tender Greens' menu includes lots of fabulous sides, too.  Choose one or two to share with the table, or craft your own meal combination:
Seasonal Veggies
Mashed Potatoes
Tabbouleh (not g/f)
Green Hummus
Farro Wheat (not g/f)
Quinoa
California Sprouted Rice
Salt & Pepper Chicken
Chipotle Barbecue Chicken
Fried Chicken (not g/f)
Backyard Marinated Steak
Albacore Tuna
Falafel (g/f but shared on equip w/ wheat)
Salmon
Why am I showing you another photo of their fabulous Backyard Marinated Steak Plate?  To show you the consistency of their plating, their portions, their freshness.  They've never disappointed me with this meal.
If you're looking to satisfy your soup tooth, their Rustic Chicken Soup is gluten-free.  And, if you're looking to satisfy your sweet tooth, they've always displayed one or two gluten-free options sitting pretty behind the glass for your indulgence.
California isn't the only state to enjoy this yummy food ~ they're opening a Manhattan, NY location (Feb 2018), and a Boston, MA location (Mar 2018).  Bravo, Matt (Lyman), Erik (Oberholtzen), & David (Dressler)!  Try adding an Overland Park, KS location, too!
Cashless?  Why, yes, they are!  You'll find all Tender Greens 'cashless' as of January 29, 2018 (sans the new Boston, MA location), meaning only credit, debit, and mobile payments are accepted.  Tender Greens has the vision to implement change in small ways to make big impacts, including faster wait times in line, and using their teams more efficiently to work on "more interesting and meaningful things."
Backyard Marinated Steak Plate w/ mashed potatoes & baby spinach salad – kitty = $ 13.00  + tip

Spinach Simple Salad

w/ side of marinated steak  – kitty = $ 11.50 + tip

Side of grilled veggies

– kitty = $ 5.50
Cookie – kitty = $ 2.50 – $ 3.00

Mighty Leaf Organic Iced Tea – kitty = $ 2.75