Smothered Chicken ~ a fine Louisiana, gluten-free favorite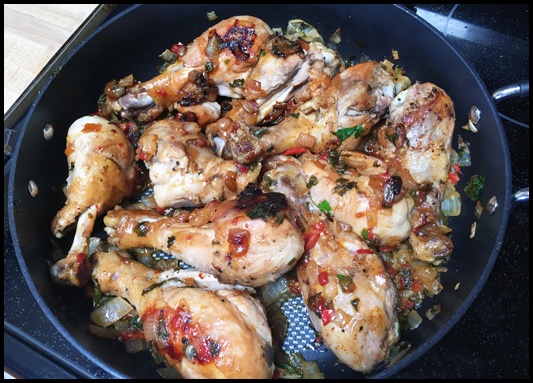 Smothered chicken is a simple, tasty dish I found years ago in Justin Wilson's Homegrown Louisiana Cookin' Cookbook.  I made a few amends to ensure it's completely gluten-free, and serve this as a meal with veggies and rice to many friends and family.  Now I'll be eating it at their homes too!
Smothered Chicken Ingredients:
2-3 pounds chicken legs & thighs (bone in)
2 tablespoons Tamari (gluten-free soy sauce)
1/8 teaspoon ground cayenne pepper
1/8 teaspoon freshly ground salt
2 tablespoons extra virgin olive oil
2 cups chopped onion
1/2 cup chopped fire roasted red bell pepper
1/2 cup chopped fresh parsley
1 cup dry white wine
2 teaspoons minced garlic (I've enjoyed using Dorot frozen crushed garlic)
Rinse the chicken pieces and pat dry.  Lightly brown the chicken in 1 tablespoon of oil over medium heat.  Remove the chicken to a shallow dish and season with the Tamari sauce, salt, and cayenne pepper.
In a large, high-walled skillet, heat 1 tablespoon oil.  Saute onions, fire roasted red bell pepper, and parsley over medium-high heat until the onions are clear.  Add the garlic and saute for about 1 minute.
Add the wine and stir all veggies together.  Once the mixture is well combined, return the browned chicken to the skillet, including the Tamari sauce drippings.  Lower the heat to medium.  Cover and cook for 1 1/2 hours, or until chicken reaches an internal temperature of 165*F.  Stir occasionally, adding a small amount of liquid (water or chicken broth) if pan cooks out the moisture.  Do not burn your chicken!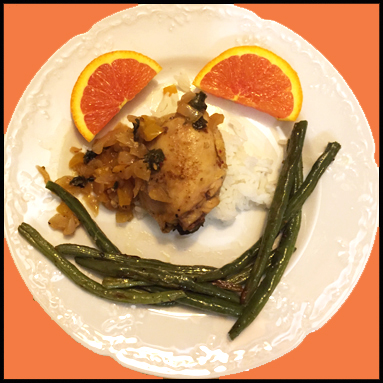 Serve chicken pieces over rice or mashed potatoes, with your choice of veggies and fruit slices.  Smileys always add a fun touch!
Opa!
    – wendi e. ;o)
Print Friendly
Save
Save
Save
Save
Save
Save
Save
Save
Save
Save