A Sampling of Gluten-free Eateries in Julian, California

Historic Julian, California is a quaint, little mountain getaway, located approx. an hour east of San Diego.  People walk Julian's Main Street of shops and eateries, and enjoy the 1870's buildings in this city within the beautiful Cuyamaca mountains.  Looking for gluten-free options?
They're famous for their apple pie.  I found a handful of eateries accommodating gluten-free lifestyles, including gluten-free apple pie ;o) (BIG SMILE).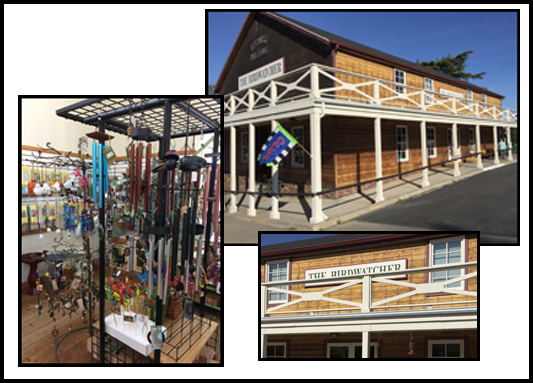 First, I can't chat about Julian without mentioning this gem.  I found The Birdwatcher perched a block away from Main Street, and is hands down my favorite place to stroll through in town.  Owners Rick and Brenda Cambell are at the registers, extremely helpful with all questions of "bird".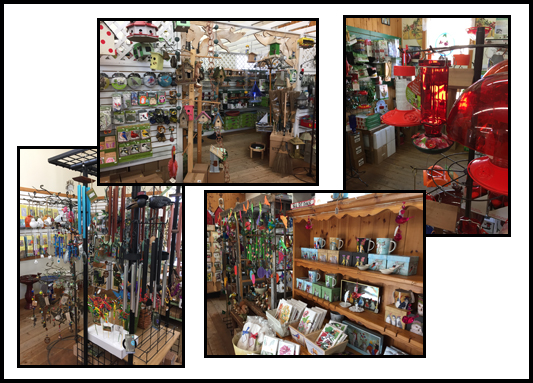 The Birdwatcher is filled with treasures and bird gifts:  feeders, wind chimes, birdhouses, birdbaths, bird-themed trinkets, clothes… for me it's all about the birds.  I've always admired gifts nature can enjoy, too!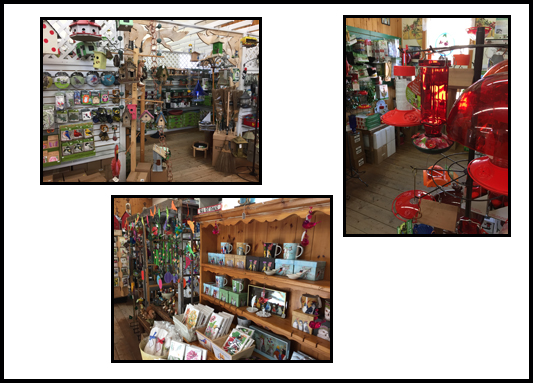 Gluten-free food!!!  Yes, let's get to the food!
The Julian Grille is a cottage restaurant first built in the 1920's as a residence.  An antique store transformed into the space, followed by a deli, and then opened as The Julian Grille in 1989.  It sits along Main Street's west end of shops, includes indoor and patio seating, and accommodates gluten-free eating.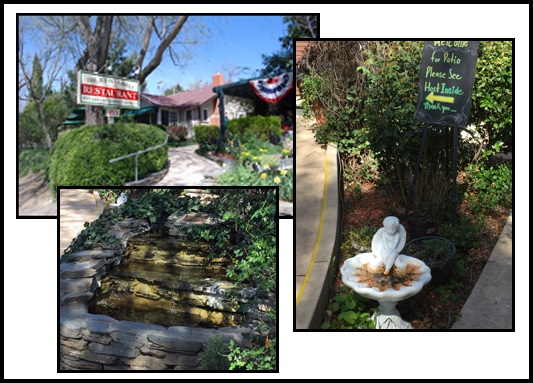 They do not indicate gluten-free options on their menu (yet?!), however they will advise you on safe, gluten-free choices.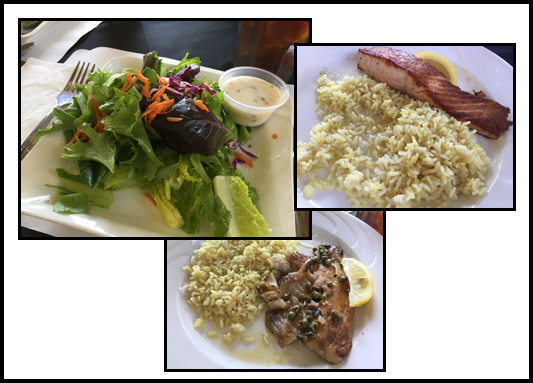 The Julian Grille's Pan Seared Salmon with garlic butter and herbs was delicious, and the Fresh Talapia seared in a lemon butter caper sauce received thumbs up, too.  Both lunches were prepared gluten-free by the chef.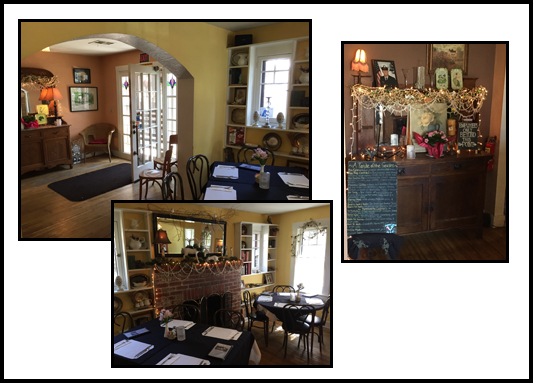 Dining inside The Julian Grille provides an escape from the hot sun, some overhead fans, and old town, charming decor to enjoy.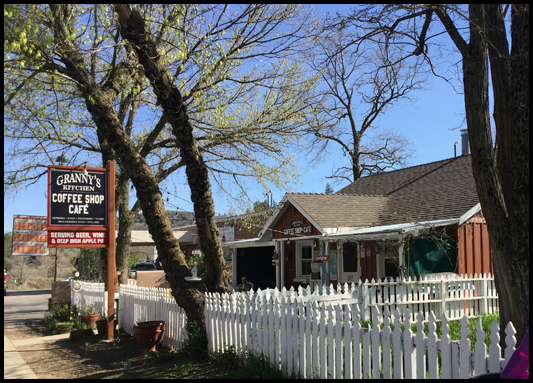 Granny's Kitchen Coffee Shop Cafe offers home cooking and baking, and food is 'made to order'.  They offer sandwiches made on gluten-free bread, salads, breakfast, and a handful of gluten-free desserts.  And YES, they offer gluten-free apple pie!  (They sold out of it by the time I got there, though ;o)).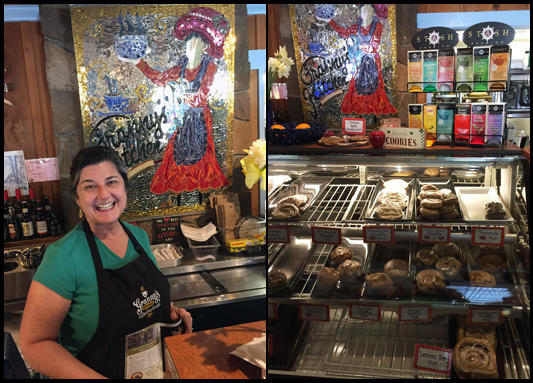 It was a pleasure meeting (friendly!) Patty Strong, co-owner of Granny's Kitchen.  "Granny's Kitchen opened in Fall of 2013, after a lengthy upgrade and make-over, and was created to honor the memory of Joan, mother to co-owner Patty, as she was "Granny" to 5 grandsons, and she loved to cook".  Congrats to Patty and Dale on purchasing the old Julian's Coffee Shop and reinventing this cafe!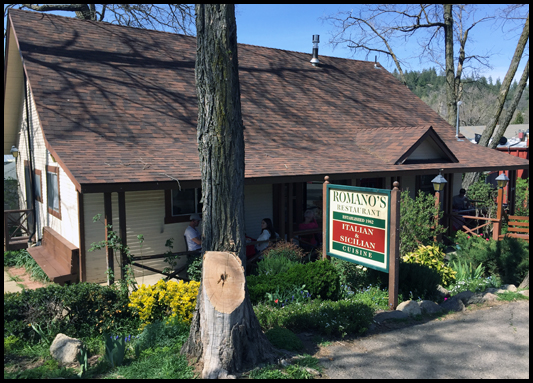 The aroma outside Romano's Restaurant smelled delicious, so I dropped in to ask about gluten-free options.  Although they do not offer gluten-free pizza or pasta, they will accommodate gluten-free eaters with many choices.  Chicken Marsala, Chicken Piccata, Chicken Cacciatore, Sicilian Steak, and Wild Atlantic Salmon Piccata all looked interesting to me, and surely most taste buds will find something appealing here.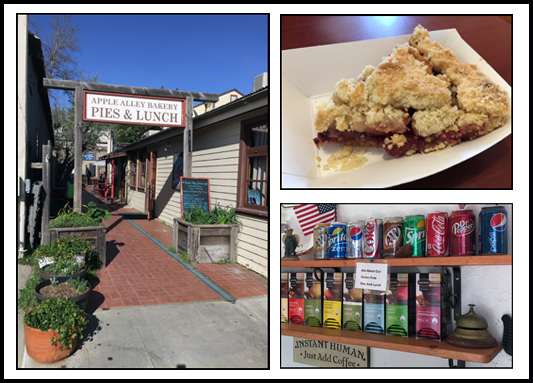 I found gluten-free apple pie!  Apple Alley Bakery serves pies and lunch – notice the order they suggest to eat them ;o).  Their gluten-free Boysenberry Apple Crumb pie was d e l i c i o u s !!!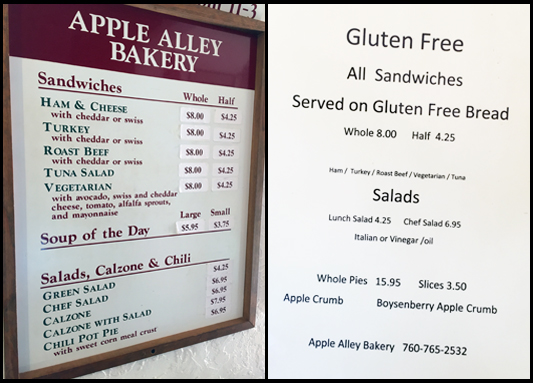 If you're looking to keep it simple and enjoy a sandwich, salad, and some good pie, Apple Alley Bakery is located in the center of Main Street and is priced right.  (They offered a special for 1/2 sandwich, salad, and a piece of pie for about $10 the day I visited.)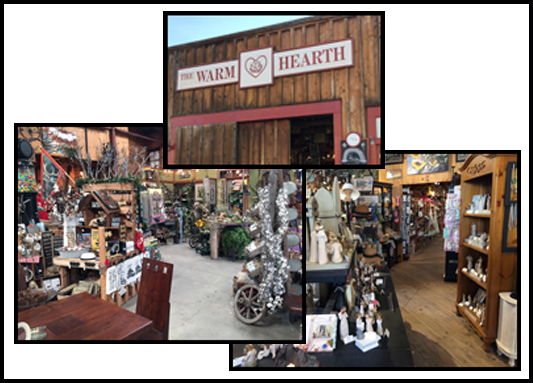 To help burn off some calories before your drive, The Warm Hearth sits along Main Street, and it's a huge building to browse.  Once you think you've seen it all, keep walking to the 'back' – it steps down into another large room full of unique gifts and treasures.  It sells honey, premium teas, sauces, and spreads, among other fun items.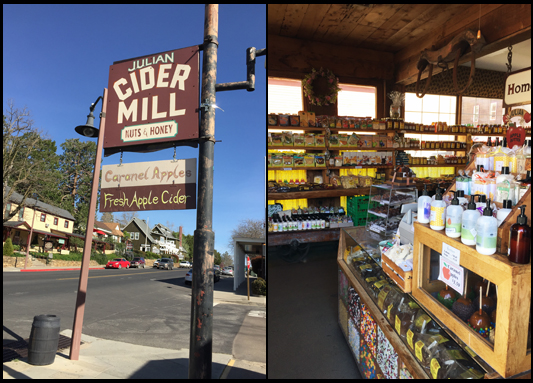 Julian Cider Mill is filled with snacks for the road: lots of candies, nuts, honey, jams, and of course fresh, cold cider.  Taste tests inside so make sure to stop in and sip some cider!  So good!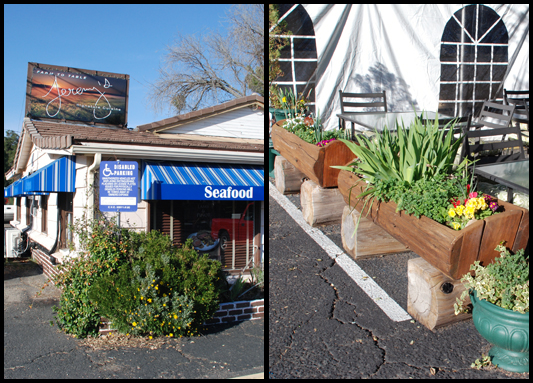 On the way out, I passed Jeremy's On The Hill, and was happily surprised to see such a fabulous menu!  Too bad I was already full :o). They indicate 'G/F' on each gluten-free menu item, something I absolutely thank every restaurant owner for – it makes ordering so much easier.  With items such as Grass Fed Burgers & Quinoa Bowls, Pecan Crusted Rack of Lamb, Julian Apple Salad, Deviled Eggs, lunch sandwiches (no bun), and assorted desserts, this 'farm to table' eatery is on my list for 'next visit'.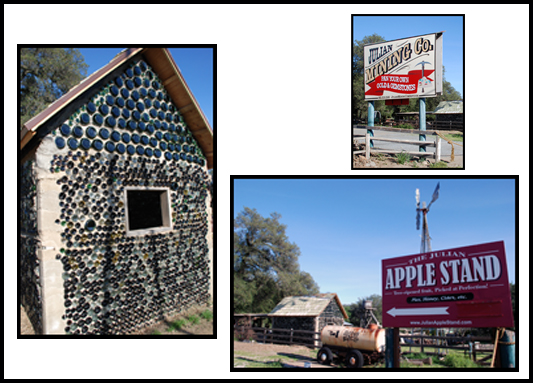 Julian Mining Company was closed on my weekday visit.  It's open Saturday and Sunday, and offers a place to pan for gold out of a waist-high wooden trough, and gem mining, for family fun, birthdays, and field trips.  Their U-pick opportunities are varied throughout the year, with August looking to be the busy time at The Apple Stand.  In addition to peaches, tomatoes, pears, and apples, The Apple Stand also carries jams, preserves, honey, and other edibles.
I enjoyed my Julian day trip, and share my gluten-free findings to help you better prepare your palate for some delicious, local foods.  It's always fun meeting small business owners, and, as with all gluten-free dining, please make sure to thank them for offering gluten-free options.  A little kindness and 'thank you' goes a long way for our gluten-free community!
If you've enjoyed some gluten-free eating in Julian at the places I mentioned, or others you've found, please share your findings with us.
   – wendi e.
Save
Save
Save
Save
Save
Save
Save
Save
Save
Save
Save
Save
Save
Save
Save
Save
Save
Save
Save
Save
Save
Save
Save