Bushfire Kitchen serves up luscious gluten-free dishes in San Diego County
I'm thrilled to find Bushfire Kitchen and it's tasty, mostly gluten-free menu, filled with 'naturally nutritious food'.  It's my new go-to in San Diego County, and with so many options, I'm a satisfied and repeat, very pleased, customer.  "Fresh, humanely raised, natural, free from hormones & antibiotics, sourced from local farmers, and organic whenever possible", Bushfire Kitchen is one of those places anyone will find something delicious to eat.
Bushfire Kitchen has two San Diego (North County) locations:  Carlsbad, CA & Del Mar, CA; and one Riverside County location in Temecula, CA.  Their menu is fabulous!  Free range grilled chicken sans antibiotics or added hormones, organic salmon, certified organic, grass-fed 100% Angus beef, and overnight slow-cooked brisket, pulled pork, and short ribs are all my menu favorites – HA! – most of the menu ;o).  Pair it with some grilled veggies and salad, delicioso!
Walking into a Bushfire Kitchen you'll find their menu items displayed along a long line, behind glass.  Ask for a sample taste of something cooking in the pots… their bacon + beans are sweet and delic (and gluten-free!).  With so many options, a little taste-test is kind – and – much appreciated (thanks, Bushfire!).  It's how I know what I'll order on my next visit ;o).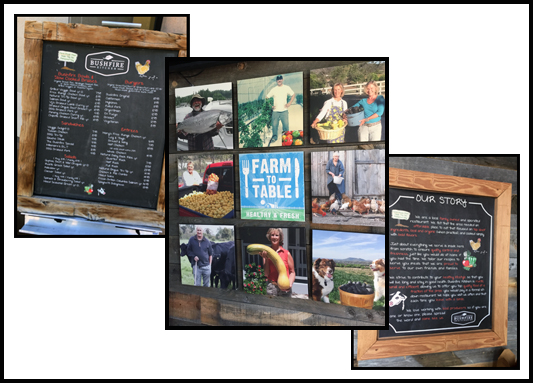 Just writing this post is getting me hungry again, and remembering how happy eating at Bushfire Kitchen makes me ;o).  Their Californian comes with sharp cheddar, local avocado, wild baby arugula, tomato, house pickled red onions, & basil pesto aioli.  Six additional grass-fed burgers are available to try:  Bushfire Special, American, Argentinian, En Fuego, Brisket, & Vegetarian.
Their BBQ Braised Pork is mouth-watering good!  Hard to choose between the pork, beef brisket, carnitas, or short ribs.  So far the pork has outnumbered the others, so next visit I'll experiment.  Lucky taste buds!
Bushfire Bowls & Slow Cooked Braises range from $7.50 (veggie) – $12.95 (salmon) and come with organic brown rice, Himalayan basmati rice, or garlic mashed potatoes, with grilled veggies or roasted squash.  Add additional sides, like their awesome sweet potato fries, for a few bucks more.
Feeling a bit adventurous, I tried their Chicken Burger 'special' one day, on a gluten-free bun.  Look how loaded it was!  I'm a definite fan of their gluten-free buns.  They're huge!  The chicken was smothered in a bbq sauce – tasty, yet I'd order it without the sauce next time.  I like my chicken grilled, enjoying their aioli, grilled onions, pickles… all those wonderful, fresh ingredients come to life.  Just a preference.
Carlsbad's Bushfire Kitchen is in La Costa Town Center near Petco and Stein Mart.  It's fun sitting at their outside patio people watching, and enjoying the (mostly perfect) San Diego weather.
One of the lesser calorie dishes, the Free Range Chicken Bowl seen here was a friend's lunch, and received thumbs up.  I've enjoyed their rotisserie leg & thigh chicken 'to go' – very juicy and full of delic spices.
Hoping on one upcoming trip to Bushfire Kitchen I meet one of the family owned staff, to personally thank them for offering top shelf ingredients, and such a huge gluten-free menu.  Oh, and they serve some awesome homemade lemonade and tropical iced tea.  Now if only they carried a gluten-free brownie for dessert ;o).
Thanks, Bushfire Kitchen!
  – wendi e.  ;O)
Tri-Tip w/ side grilled veggies, side greek salad, chimmichurri sauce – kitty = $ 16.11  + tip

Fresh British Columbia Salmon

w/ Himalyian basmati rice, side greek salad  – kitty = $ 18.26  + tip

Californian Burger

, side grilled veggies, iced tea

– kitty = $ 19.39  + tip
BBQ Braised Pork bowl w/ mashed potatoes, grilled veggie topping – kitty = $ 10.75  + tip

BBQ Braised Pork bowl

w/ basmati rice, grilled veggie topping  – kitty = $ 10.75  + tip

Chicken Burger (special)

, gluten-free bun, side greek salad, sweet potato fries

– kitty = $ 18.26  + tip

Free Range Chicken Bowl

w/ organic brown rice, roasted squash  – kitty = $ 9.75  + tip
Free-Range Antibiotic Free Chicken Leg & Thigh w/ peri peri sauce, side basmati rice, side greek salad – kitty = $ 12.01  + tip

Save
Save
Save
Save
Save
Save
Save
Save
Save
Save
Save
Save
Save
Save
Save
Save